International Studies student receives prestigious Truman Scholarship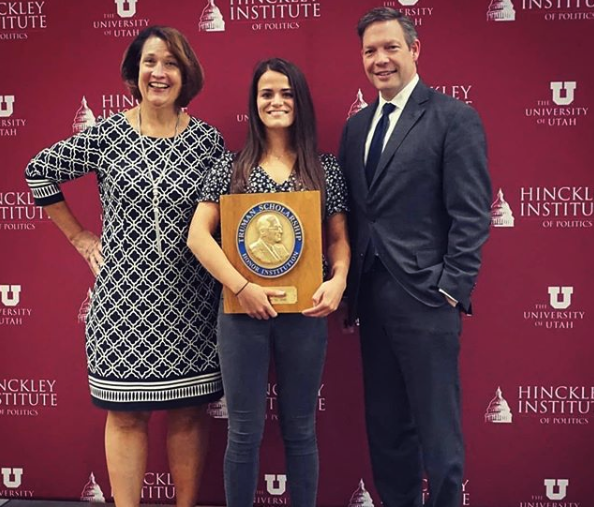 Samantha Thorne, a double major in economics and international studies at the University of Utah, has been selected as one of 62 Truman Scholars for 2019. The Truman Scholarship is the premier graduate scholarship for aspiring public service leaders in the United States.
In addition to serving as a communications intern in senatorial and gubernatorial offices, Thorne worked as a D.C. and international correspondent for Diplomatic Courier – a global affairs publication and analysis magazine. She has volunteered in election night war rooms, at Republican state conventions and on a U.S. Senate campaign. She helped facilitate an on-campus polling site at the U during the 2016 elections and represented the university at Harvard's Political & Civic Engagement Conference. Thorne has also served as an Honors College representative at the Oxford Consortium on Human Rights, a trade service intern at World Trade Center Utah, a forum host for the Hinckley Institute of Politics and a government relations advisor for Telstra in Melbourne, Australia.
The Truman Foundation was created by Congress in 1975 as the living memorial to President Truman and the Presidential Memorial to Public Service. The foundation's mission is premised on the belief that a better future relies on attracting to public service the commitment and sound judgment of bright, outstanding Americans. In fact, it was this belief that led President Truman, when approached by a bipartisan group of admirers near the end of his life, to encourage congress to create a living memorial devoted to this purpose rather than a bricks and mortar monument.
The 62 new Truman Scholars were selected from among 840 candidates nominated by 346 colleges and universities. This is the largest number of applicants from a record number of schools in recent history. They were chosen by sixteen independent selection panels based on the finalists' academic success and leadership accomplishments, as well as their likelihood of becoming public service leaders. 

Each new Truman Scholar receives up to $30,000 for graduate study. Scholars also receive priority admission and supplemental financial aid at some premier graduate institutions, leadership training, career and graduate school counseling, and special internship opportunities within the federal government.
There have been 3,260 Truman Scholars since the first awards were made in 1977. Prominent Truman Scholars include Supreme Court Associate Justice Neil Gorsuch (1987), U.S. Senator Chris Coons (1983), former National Security Advisor Susan Rice (1984), U.S. Congressman Ted Deutch (1986), U.S. Congressman Dusty Johnson (1998), U.S. Congressman Andy Kim (2003), U.S. Congressman Greg Stanton (1990), New York City Mayor Bill de Blasio (1981) and former Arizona Governor Janet Napolitano (1977). Truman Scholars lead at all levels of government and in the nonprofit sector.