Why International Studies?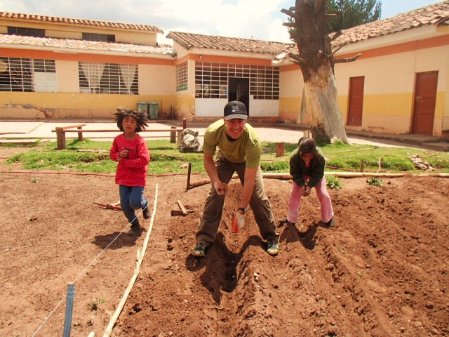 An International Studies student interning in Peru
Why Major in International Studies?
The International Studies Program uses the wide-ranging resources at the University of Utah to prepare students to live and work in the increasingly global world of the 21st century. Established in 2003, the major has rapidly become one of the most popular undergraduate programs at the University. The interdisciplinary methods, language study, and direct international experience make it a versatile and highly flexible major—either alone or in combination with other programs of study. Students are encouraged to pursue an additional major or minor especially in a foreign language. Linguistic and cultural competence, acquired through language study, is essential to the International Studies major.
The degree grounds students in different disciplines (such as communication, economics, history, political science, foreign language) and permits them to explore the international scope of these disciplines. At the upper division level, students choose a thematic focus and with an advisor co-design a curriculum around this theme. The main aim of this degree is to provide students with a greater understanding of global and international issues, and to guide them toward incorporating their awareness, knowledge and skills into their career goals. Graduates of the program pursue careers in government, business, international development, global health, international security, journalism, and many other careers.
VIEW THE International STUDIES MAJOR MAP
Benefits of this Major
Flexible coursework across many academic departments
Ideally suited for students interested in a double major
Students participate in study abroad or an international internship as a capstone for the degree
Skills You Will Develop
Ability to work with people from other cultures
Proficiency in a foreign language
Excellent communication skills
Flexibility and adaptability
Independence
Initiative
Problem solving
Possible Career Paths
Foreign Service
Government/Politics
International Sales/Business
Tourism and Travel Industry
Education/Language Services
Public Administration
Medical Professional
International Law
Non-profits
Advocacy and Social Justice
Global Health