Spring 2022 Featured Courses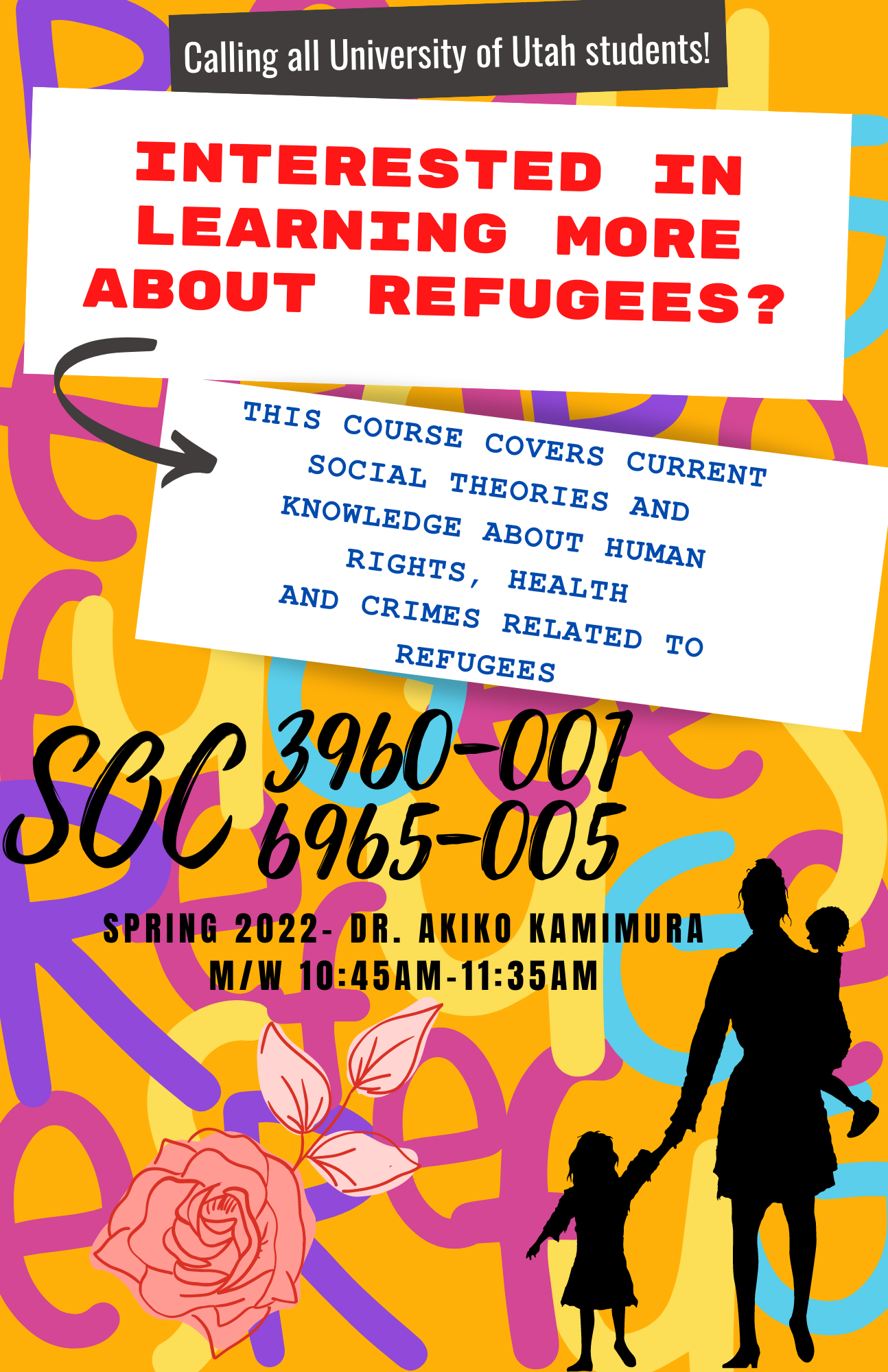 SOC 3960-001/ 6965-005: Refugees
This course covers current social theories and knowledge about human rights, health and crimes related to refugees.
---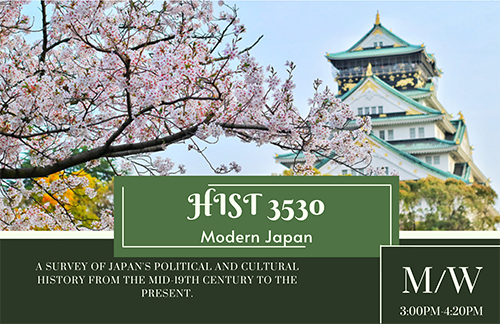 HIST 3530: Modern Japan
A survey of Japan's political and cultural history from the mid-19th century to the present.
---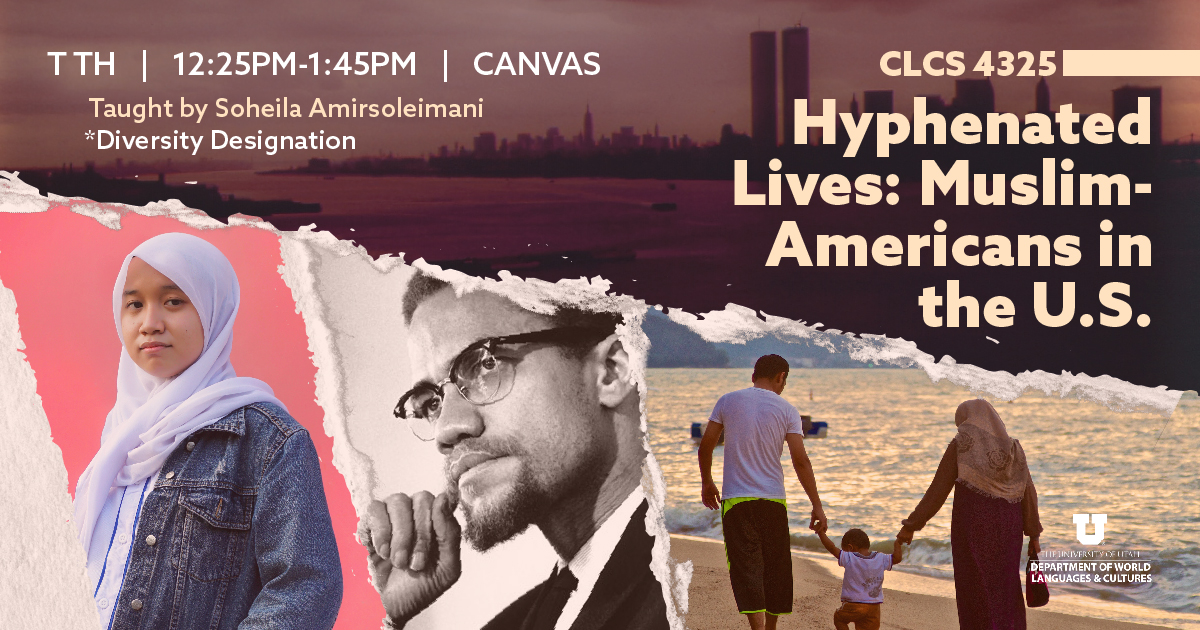 CLCS 4325: Hyphenated Lives: Muslim-Americans in the U.S.
Days: Tuesday/Thursday
Time: 12:25-1:45 pm
This course is taught in English.
In this course, we will learn the basic tenets and early history of Islam, and study Islam in America, with attention to the current issues facing Muslim-Americans in the U.S. Five issues that we will especially focus on in reading and discussing Muslim-Americans' lives will be issues of identity, religion, race, nationality, and ethnicity. Our study of this urgent topic will be against the backdrop of misperceptions and stereotyping of Muslims by the mainstream media, especially since 9/11, as well as the targeting of Muslims as terrorists.
Diversity designation.
---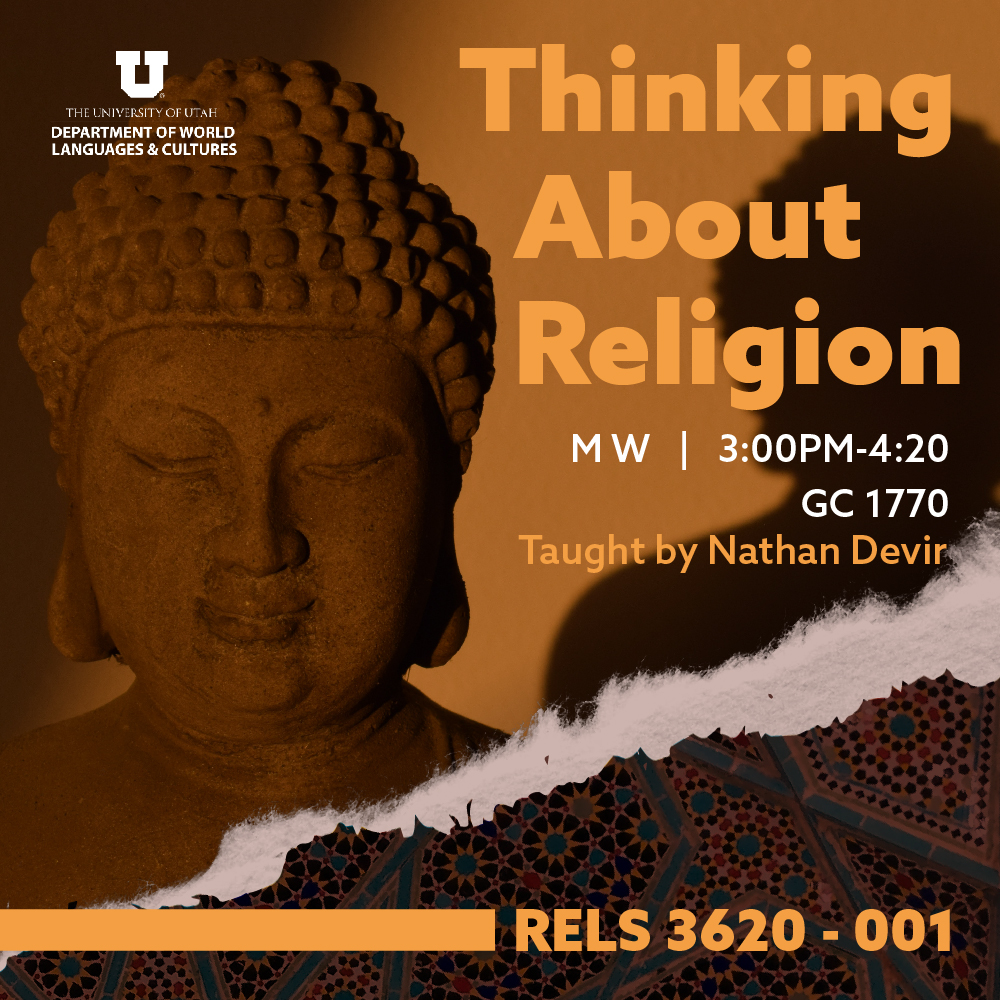 RELS 3620: Thinking about Religion
Days: Monday/Wednesday
Time: 3-4:20 pm
Location: GC 1770
How do varied religious beliefs influence culture, personality, and relationships? In which ways does religion affect (inter-)national ideologies and geopolitical trends? How might we trace the origins of certain "secular" concepts to religious precursors? This course will explore potential answers to those questions while investigating the central debates, concepts, issues, and disciplinary approaches to studying religion as an academic subject.
---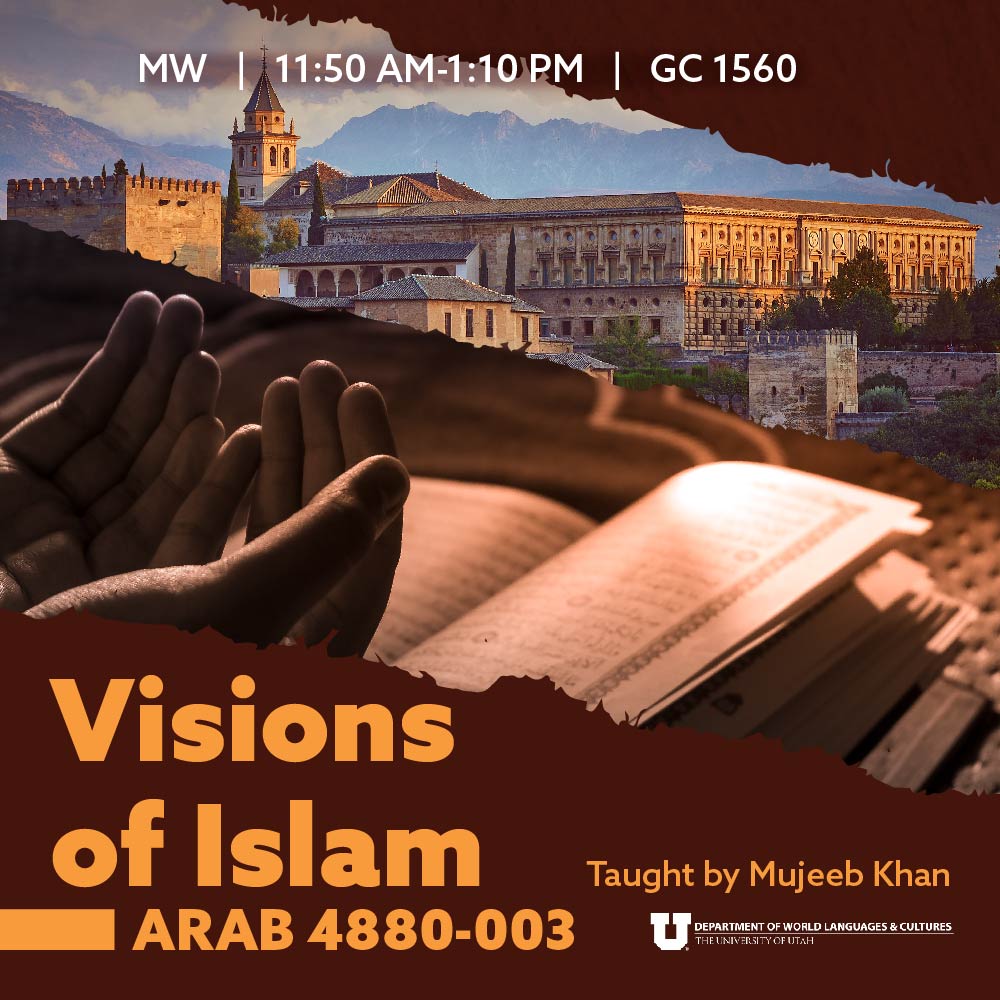 ARAB 4880: Visions of Islam
Days: Monday/Wednesday
Time: 11:50 am- 1:10 pm
Location: BEH S 107 (location on flyer is incorrect)
An introduction to Islam that explores the religious beliefs and customs of the faith as understood and practiced by Muslims for over 1400 years. The course will consider modern, historical, and original sources, to understand different approaches to Islam, including politics, culture, theology, law, and identity. This course will be conducted in English.
---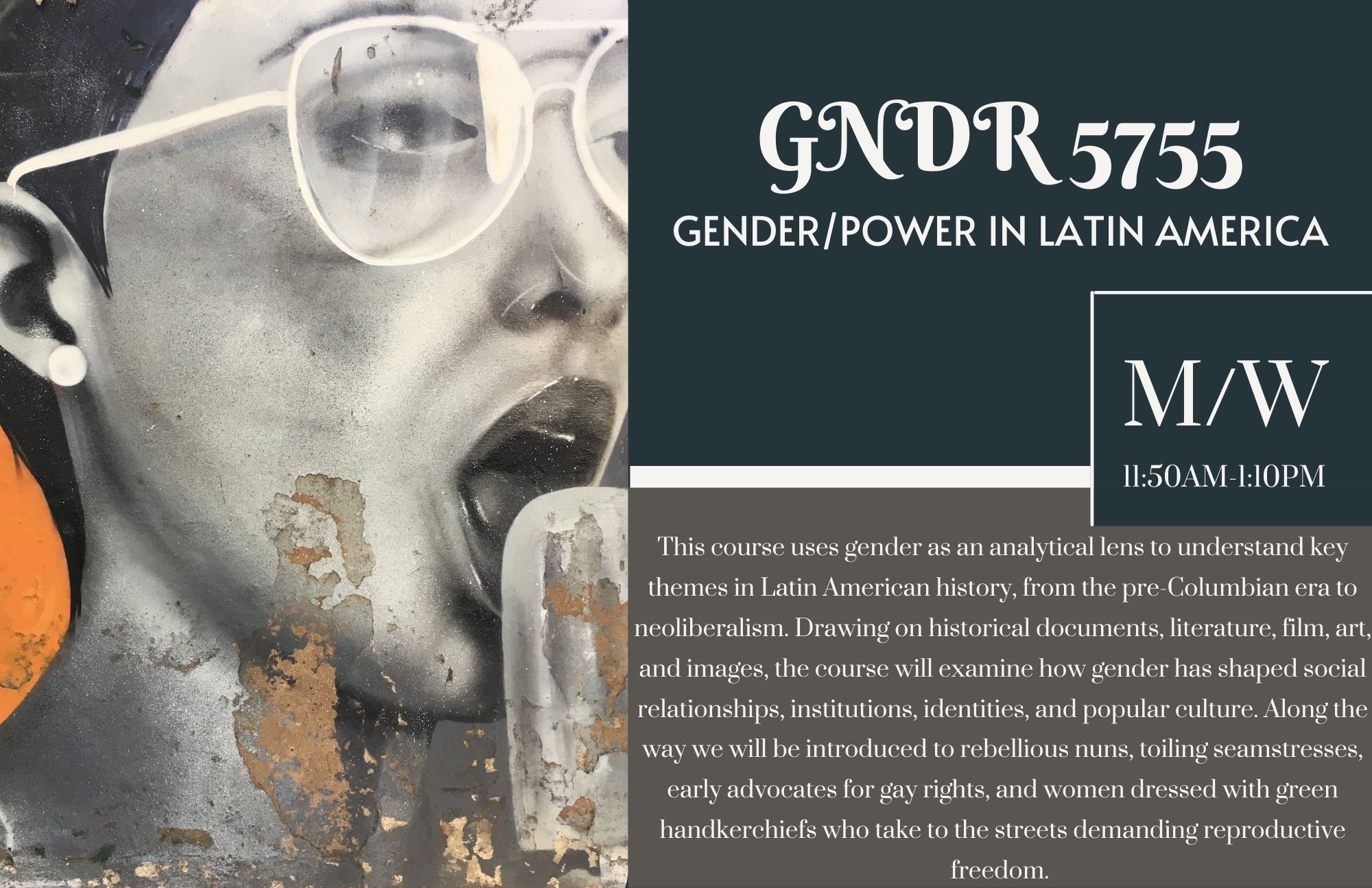 GNDR 5755: Gender/Power in Latin America
This course uses gender as an analytical lens to understand key themes in Latin American history, from the pre-Columbian era to neoliberalism. Drawing on historical documents, literature, film, art, and images, the course will examine how gender has shaped social relationships, institutions, identities, and popular culture. Along the way we will be introduced to rebellious nuns, toiling seamstresses, early advocates for gay rights, and women dressed in green handkerchiefs who take to the streets demanding reproductive freedom.
---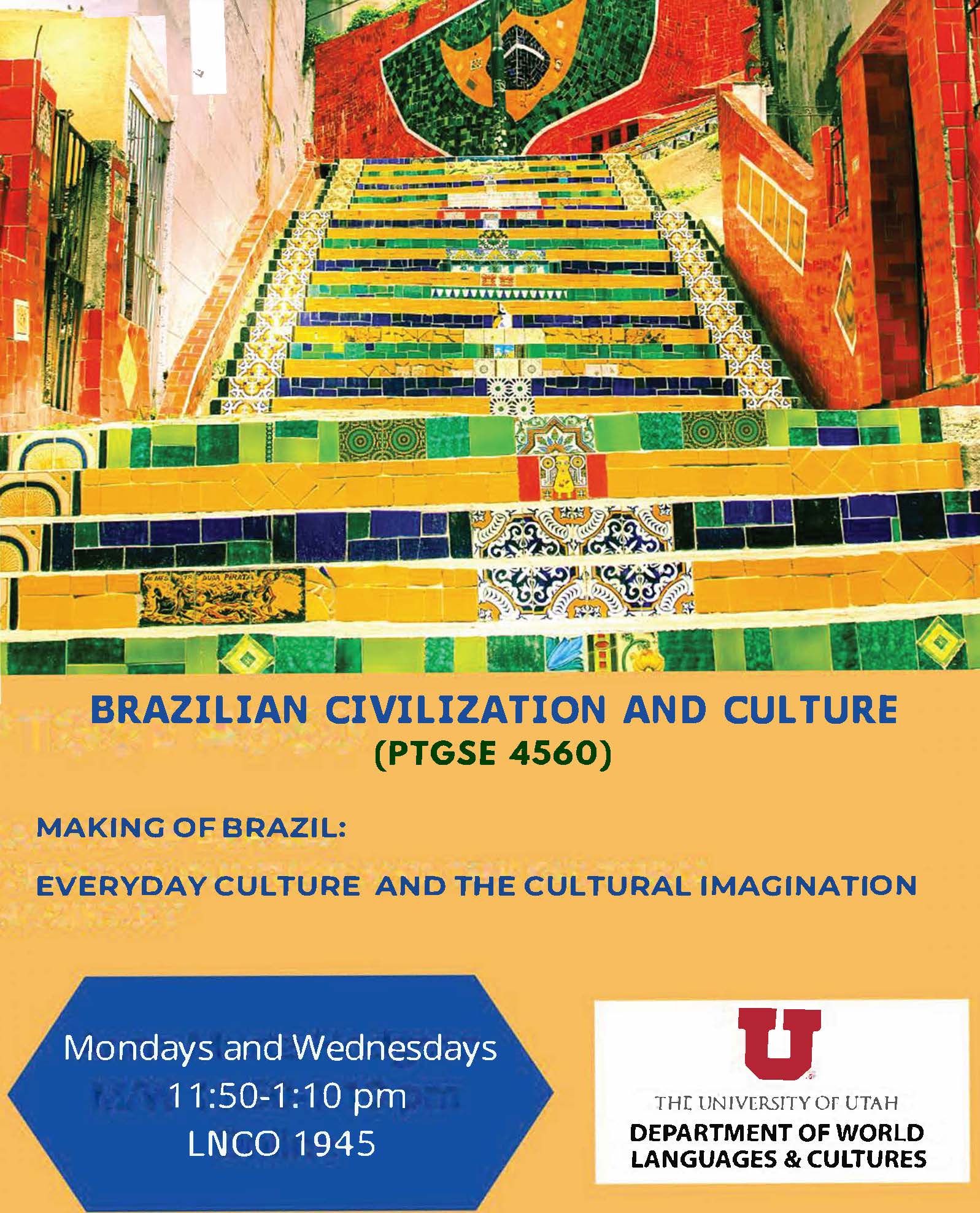 PTGSE 4560: Brazilian Civilization and Culture
Conducted in Portuguese.
This course is an interdisciplinary introduction to Brazilian civilization and culture. We will examine such topics as the legacies of indigenous people and empire, authoritarianism and democratization, migration and urbanization, racial and ethnic identity, women's roles, religion, the role of the complexity, variety, and unique cultural and historical experiences that characterize Brazil.
---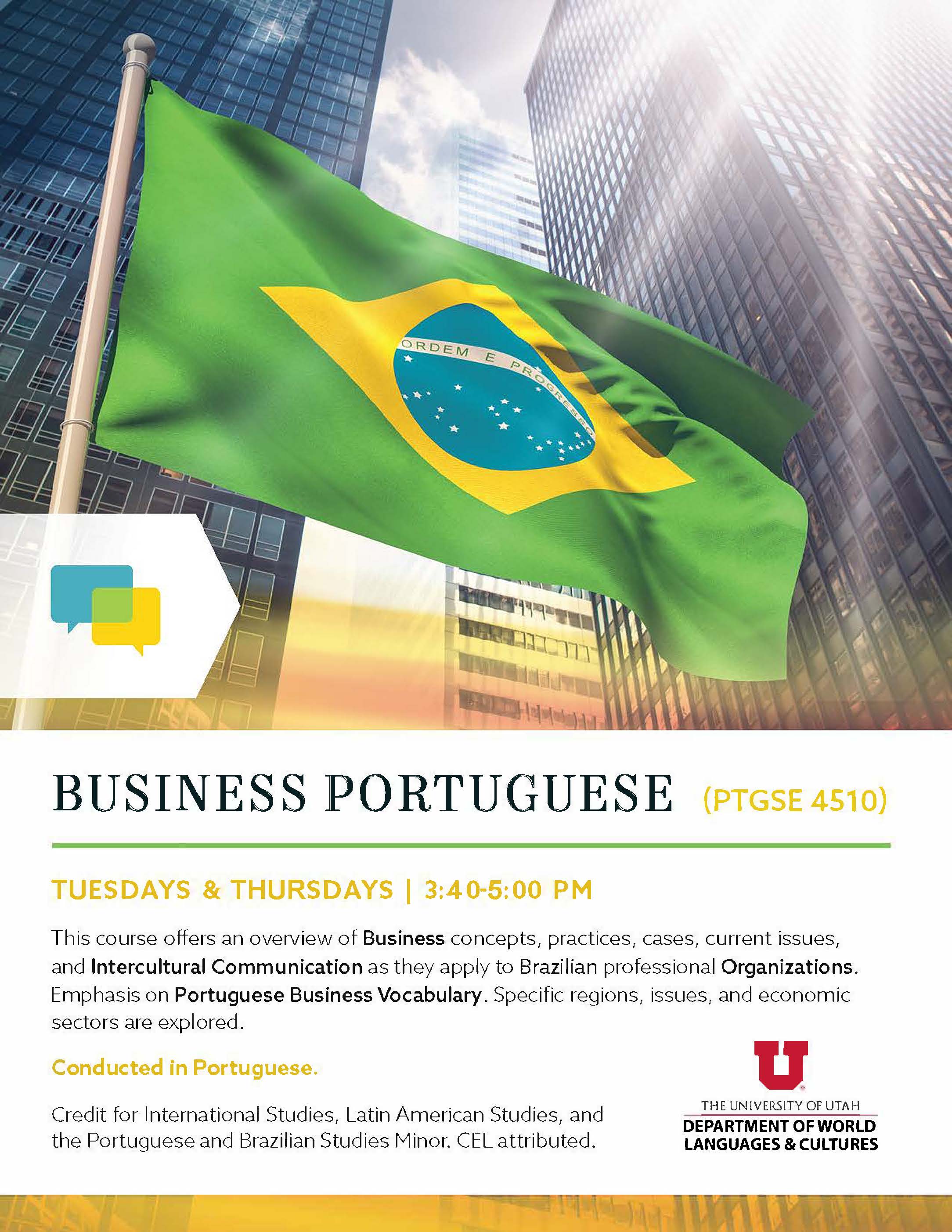 PTGSE 4510: Business Portuguese
Days: Tuesday/Thursday
Times: 3:40- 5 pm
Conducted in Portuguese.
This course offers an overview of Business concepts, practices, cases, current issues,
and lntercultural Communication as they apply to Brazilian professional Organizations.
Emphasis on Portuguese Business Vocabulary. Specific regions, issues, and economic
sectors are explored.
Credit for International Studies, Latin American Studies, and
the Portuguese and Brazilian Studies Minor. CEL attributed.
---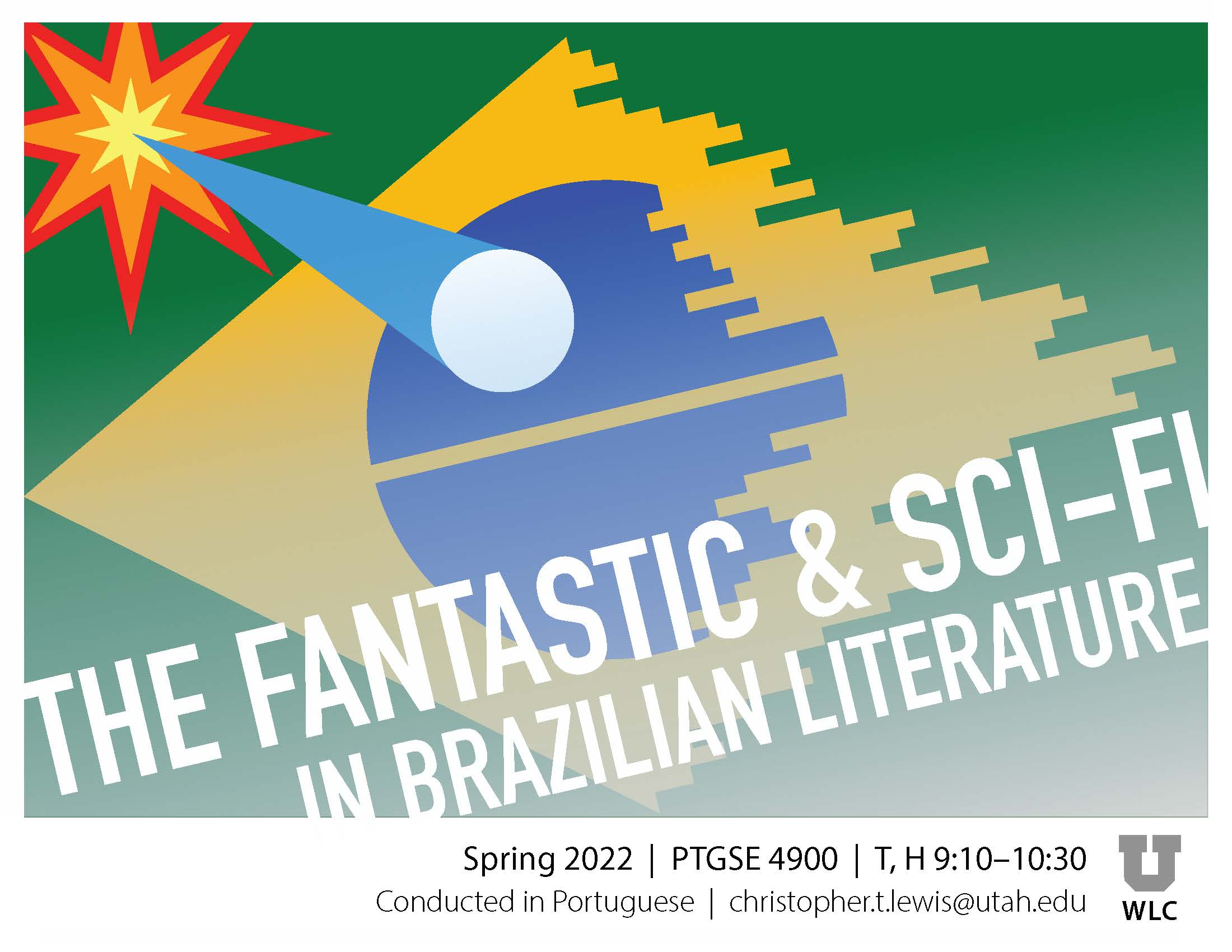 PTGSE 4900:
The Fantastic & Sci-Fi in Brazilian Literature
Days: Tuesday/Thursday
Time: 9:10-10:30 am
Conducted in Portuguese.
---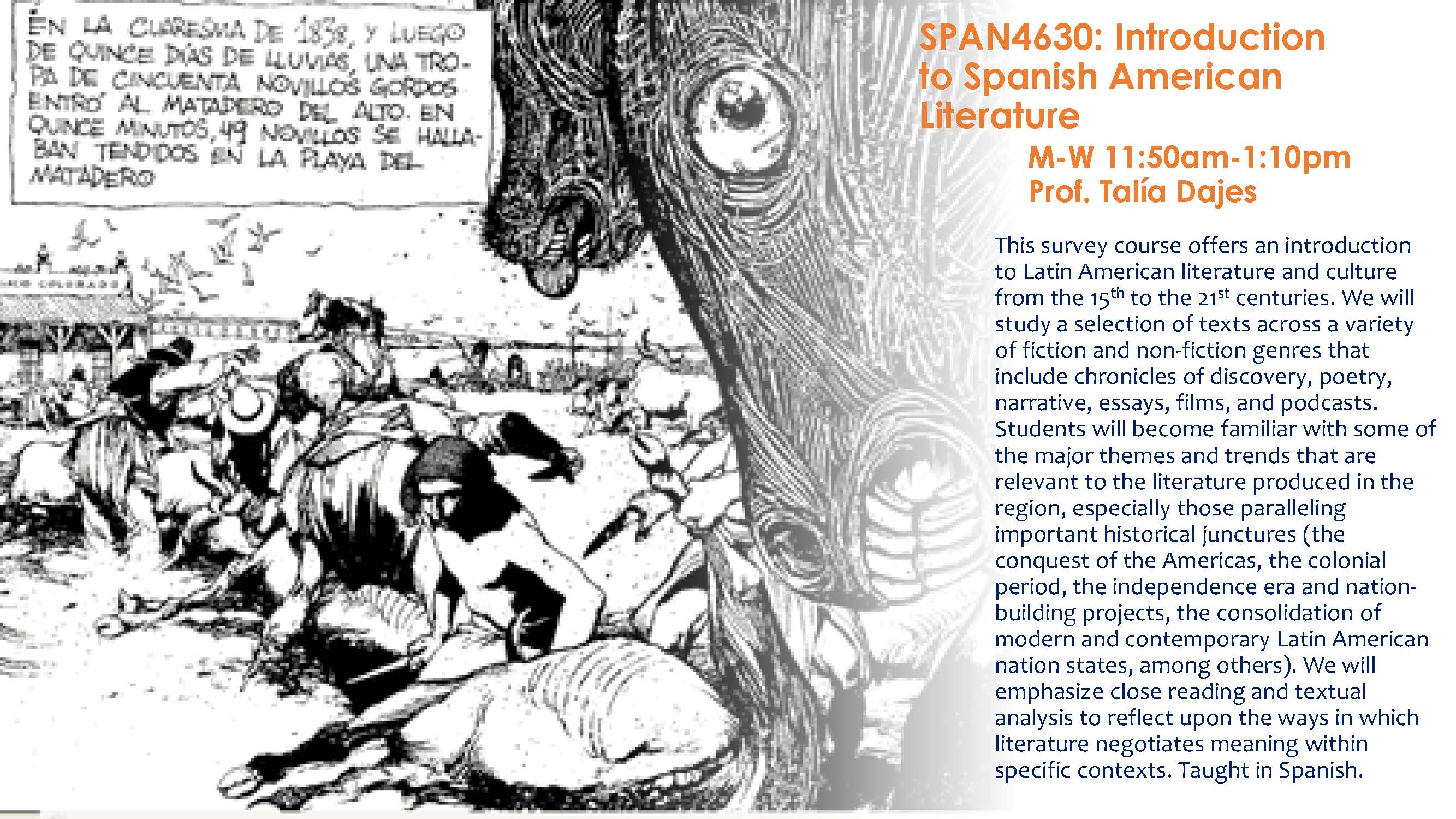 SPAN4630: Introduction to Spanish American Literature
Days:
Monday/Wednesday
Time: 11:50 am - 1:10 pm
Conducted in Spanish.
This survey course offers an introduction to Latin American literature and culture from the 15 th to the 21 st centuries. We will study a selection of texts across a variety of fiction and non fiction genres that include chronicles of discovery, poetry, narrative, essays, films, and podcasts. Students will become familiar with some of tthe major themes and trends that are relevant to the literature produced in the region, especially those paralleling important historical junctures (the conquest of the Americas, the colonial period, the independence era and nation building projects, the consolidation of modern and contemporary Latin American nation states, among others). We will emphasize close reading and textual analysis to reflect upon the ways in which literature negotiates meaning within specific contexts.
---
POLS 6960-006: Politics, Groups, and Identities
Day: Tuesday
Time: 2-5 pm
This is a political science graduate seminar for students interested in identity politics, broadly defined. We will survey the broad social science literature on identity, beginning with foundational theoretical frameworks from multiple disciplines before exploring the causes, mechanisms, and consequences of identity politicization. The course will take a comparative politics approach to these questions and study contexts around the world, but will also be of interest to students of American politics and political behavior, international relations, and political theory.
---
POLS 3550: Politics of Latin America
Days: Monday/Wednesday
Time: 11:50 am- 1:10 pm
Location: GC 4700
This course is designed to be a survey of the government and politics of Latin America countries, highlighting important issues common to countries in the region such as transition from authoritarianism, economic reforms and change, environmental politics, human rights, quality of democracy, revolts and revolutions, poverty and protest, etc.
---
SPAN 3070: Introduction to Textual Analysis in Spanish
Days: Monday/Wednesday
Time: 1:25-2:45 pm
This class introduces students to writing genres and the craft of textual analysis in Spanish through the comparative study of works from Latin America and Spain. We will consider a variety of genres like narrative fiction and non-fiction, poetry, drama, essay, testimony, and aphoristic writing. We will also examine visual texts such as comics, films, graphic novels and, possibly, new media genres. Students will learn how to identify, analyze, and write in Spanish about different literary tropes, rhetorical figures, argumentative forms, and expository methods employed in the selected materials.
---
SPAN 4560: Latin American Culture & Society
Day: Monday
Time: 4:35-7:05 pm
This course offers a panoramic overview of Latin American social, political, and cultural history from pre-colonial times to the 20th century. Topics will include the European conquest and colonization; indigenous societies past and present; 19th-century wars of Independence, nation-building projects, and intellectual traditions; 20th-century populism, revolutionary movements, and modernization ideologies; the wave of military dictatorships and the transition to democracy, as well as several cultural and artistic trends from different periods and sub-regions of the continent.
---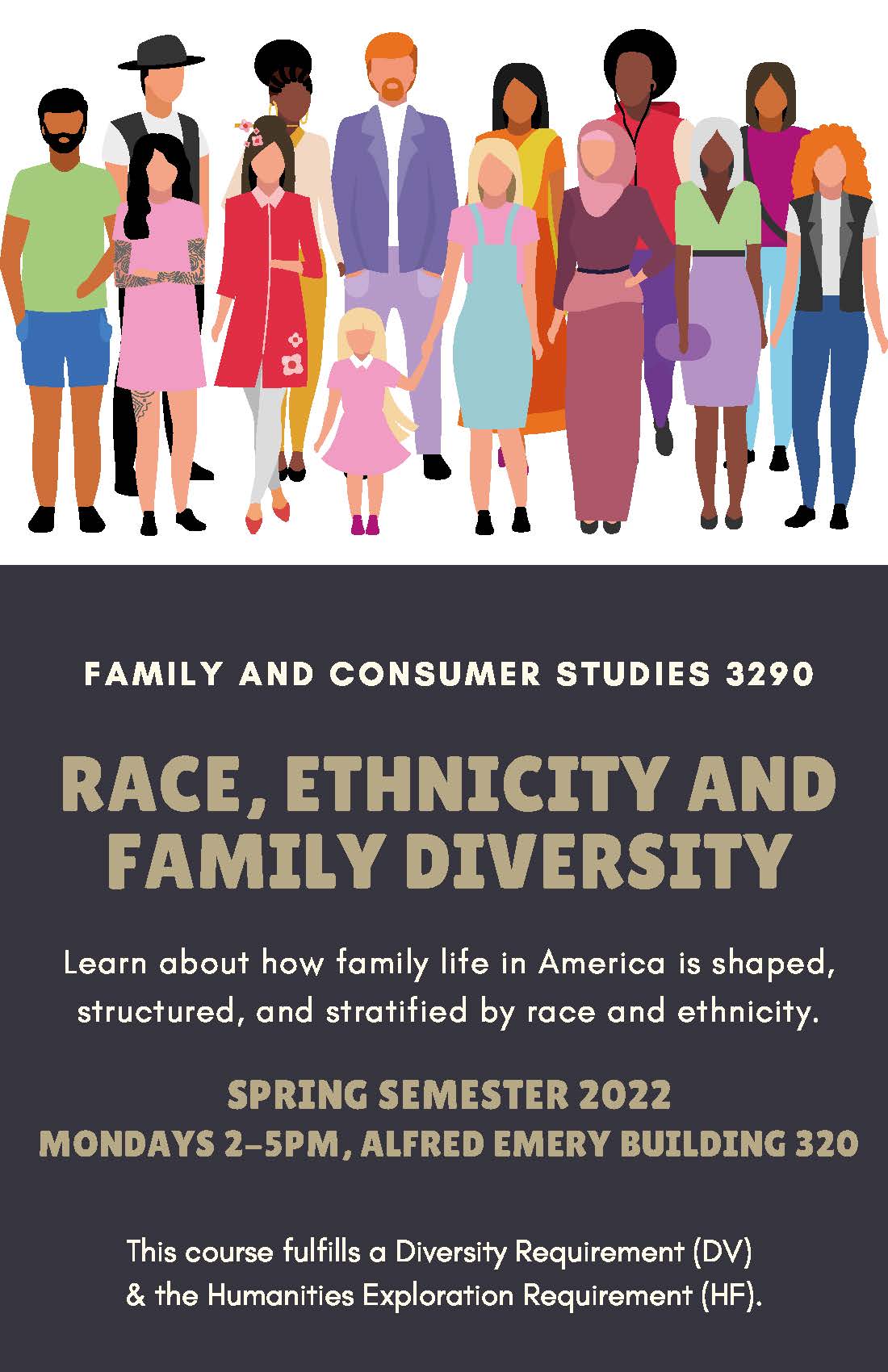 FCS 3290: Race, Ethnicity and Family Diversity
Location:
Alfred Emery
Building 320
This course examines how race and ethnicity shape and structure family life in the United States. Utilizing a multidisciplinary lens, as well as theoretical and empirical research, students will analyze the diversity among major racial and ethnic groups, including Latinx, Black, Asian American, Native American, Anglo American and multiracial families. In addition to examining the respective cultures, heritage, and strategies for resilience, students will explore the challenges facing families due to marginalization and the potential of social and public policies for addressing these challenges.
This course fulfills a Diversity Requirement (DV) & the Humanities Exploration Requirement (HF).